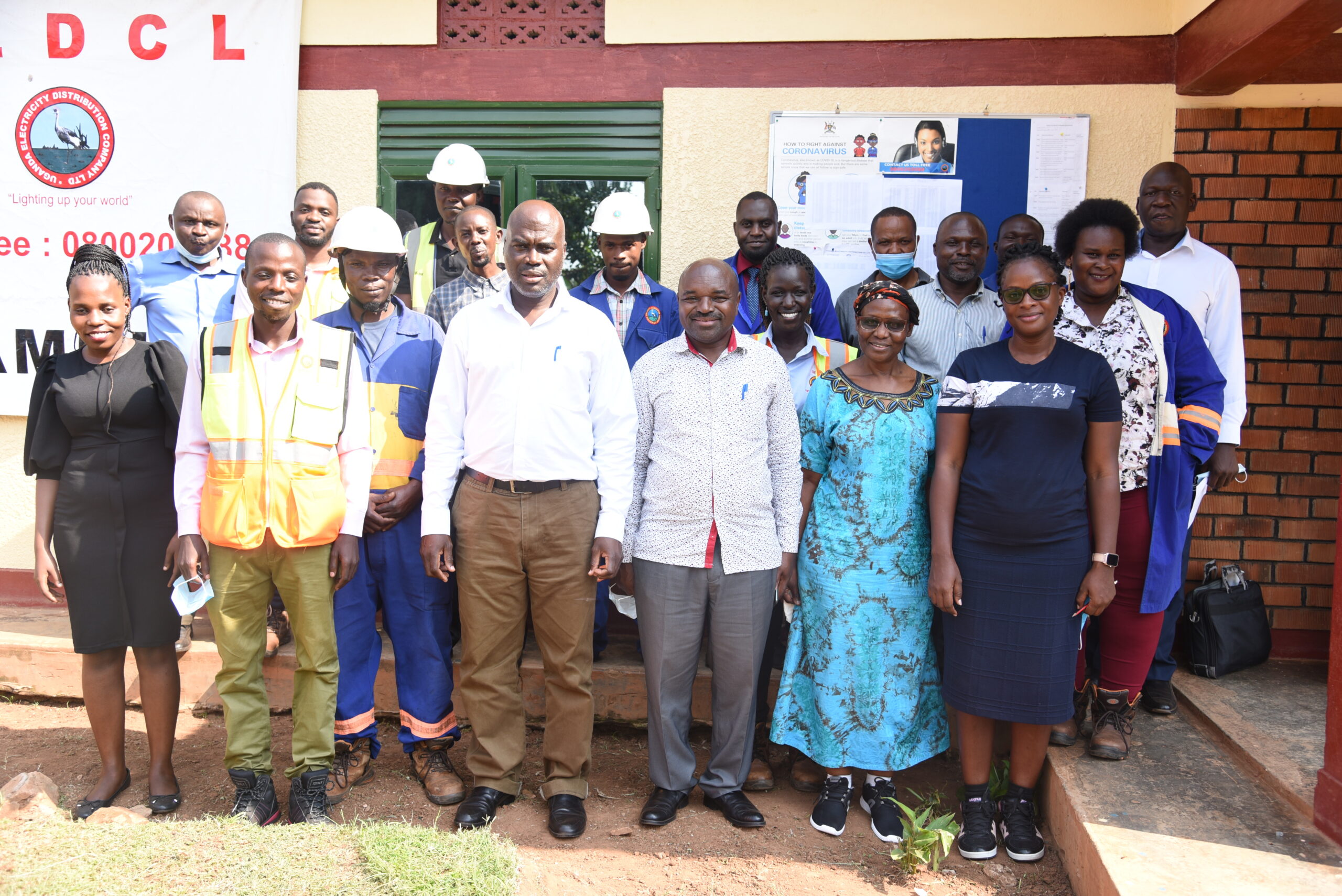 By Jonan Kiiza-Corporate Affairs
The Uganda Electricity Distribution Company Limited (UEDCL) top Management led by Paul Mwesigwa -MD, has concluded its 5-day tour of the Central North and North Northwest service territories. The trip commenced on 8 and ended on 12 August 2022. He was flanked by the company's Chief Engineer, Chief Logistics, and the company secretary among other senior management officers of the entity. Three days were well spent appraising the NNWST and while the rest in the central north service territory.
"We're here to touch base with the field technical team, renew our commitment to the company's strategic direction/plan, plus pick the aching operational challenges from our staff", Said Mwesigwa Paul – UEDCL MD, adding that there ongoing policy developments that field staff must be appraised on as GoU moves to improve efficiency in the electricity supply industry.
The North North West service territory (NNWST) covers seven (7) districts in northern Uganda which include; Amuru, Gulu, Kole, Oyam, Adjumani, Moyo, Anaka, and Pader. This operational area is supported by seven fully-fledged offices at Gulu, Otwal, Adjumani, Kamdini, Pabbo, Anaka & Moyo. The territory has got 8,102 customers in the stratification of domestic, commercial, medium, and lighting. Whilst the Central North service territory with 3,225 customers covers seven (7) districts in northern Uganda including; Apac, Amolatar, Kaberamaido, Lira, Alebtong, and Otuke. This territory is supported by four (4) fully-fledged operational offices at Aloi, Dokolo, Amolatar, and Apac.
"We're aware of the ongoing challenges of power unreliability in Moyo and Adjumani, and Management unanimously agreed to revamp the network up to Elegu this year 2022," said Eng. Protaze Tibyakinura – UEDCL's Chief Engineering and Technical Services Officer. He also cautioned his technical team on corruption, reminding them that UEDCL Management will not tolerate any staff involved in bribery or any form of a mastermind to cheat customers. He reminded the staff, that management has "fired" individuals who have been found guilty of the same.
UEDCL is the owner of all the (11kV-33kV) assets operated by Umeme Limited under a 20 – year lease and assignment agreement (LAA) ending in 2025. Mr. Mwesigwa Paul continued to reiterate that UEDCL is operationally ready to run the country's distribution network in case GoU does not renew the Umeme Ltd' contract. He also emphasized that this kind of appraisal tour was an annual norm of management until the advent of the Covid-19 pandemic.
"I therefore continue to encourage my staff to get fully vaccinated and keep following the standard operating procedures issued by MoH", Said, UEDCL MD while making his concluding remarks at Amolatar Office on 12 August 2022.
Currently, UEDCL is also implementing the GoU free electricity connections policy (ECP), a strategy of the Ministry of Energy & Mineral Development to increase demand, especially in rural areas. In addition to the above, UEDCL is also implementing special schemes like the Pakwach- Nebbi 33kV interconnection, an interim measure that will see the West Nile region connected to the national grid come to the end of September 2022.