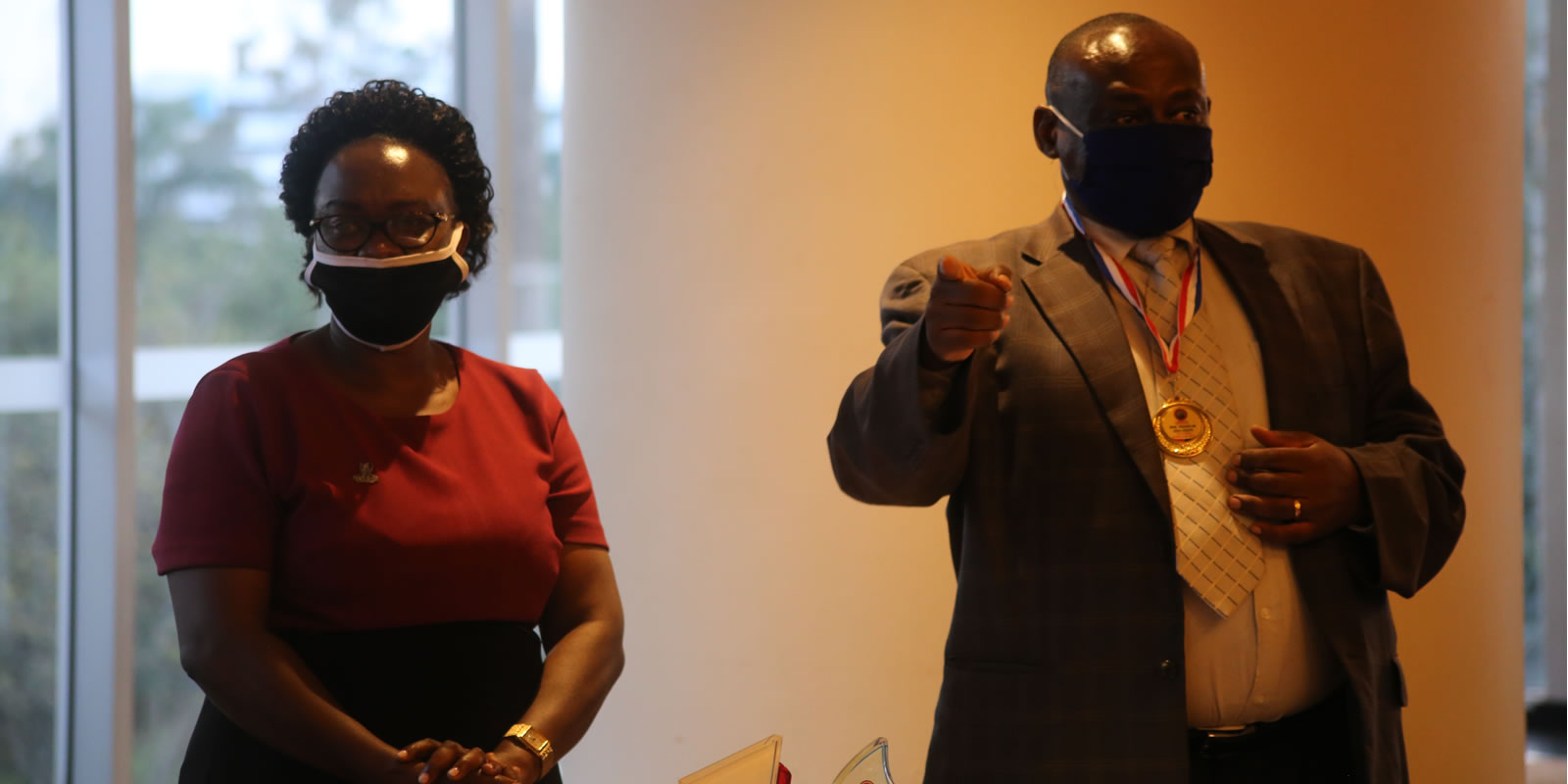 September 9, 2020 1:21 pm
The UEDCL Board and management have recognised and rewarded Eng. Franklin Kizito Oidu-Chief engineer, also the longest-serving employee in an exquisite ceremony held at Kampala Sheraton Hotel, on Thursday, September 4, 2020. The Board of directors led by Mr. Tumuheirwe Francis commended the 37 years of dedicated service by Mr. Oidu Franklin Kizito to the electricity sector & to the UEDCL family specifically.
"He started his career with Uganda Electricity Board (UEB) in 1983 after graduating from Makerere University with a bachelor's of Electrical engineering", Said Mr. Tumuheirwe Francis – UEDCL Board Chairman, adding that, whatever UEDCL technical service is today, he has built! His knowledge, experience, and passion for work can rarely be met in the current generation. Mr. Tumuheirwe explained the critical role of the family in the employee's career success. He thanked Mrs. Oidu specifically for being a submissive wife and underscored that if it were not for her, whatever success we're pointing out today would have been the opposite.
Mr. Oidu Franklin Kizito has been UEDCL's longest-serving employee who has grown through the ranks in the sector. He holds a BSc. (Eng.), Makerere Univ.; PGD Electric Power Distribution Systems, Univ. of Trondheim and; a MSc. Electrical Eng., University of Manchester. He is a registered engineer following the engineering registration act Cap 271.
Many of the engineers in UEDCL and the energy fraternity have commended the mentoring role of Eng. Franklin. "Franklin has mentored all of us, he has seen all of us grow in this discourse" Said, Fred Wamala (Eng) – UEDCL Operations Manager, adding that, no one in this room at Sheraton Hotel has not gone through those humble but great hands.
In the same disposition, Mr. Mwesigwa Paul- UEDCL MD, described Franklin, the outgoing Chief engineer as a down to earth, professional and passionate colleague. Both had worked together at UEB before it was disbanded, but later met at UEDCL. The MD acknowledged that Mr. Oidu Franklin in his life at the entity had never faced a disciplinary action nor any investigation which is a true description of integrity.
As the saying goes, "even the best dancer leaves the stage", his predecessor, Eng. Protaze Tibyakinura, was equally mentored by Eng. Franklin in the UEB days. "I recall when I came with my project from Makerere and they told to wait for Mr. Oidu", Said Eng. Protaze, who added that he welcomed me with a smile and warm heart as if he had known me for years. This and many descriptions of a smiling, kind, mentor, and passionate Eng. Franklin was accurate and in tandem with many internal testimonies made about the life of Franklin in service.
While speaking to the Board, top and senior management, Mr. Franklin for forgiveness to those he had hurt while in service. He thanked the UEDCL board, management, and staff that he was worked with for all these years. "Retirement awaits all of us the day we sign our first contract and it is a privilege to be honorably retired" Said, Eng. Franklin- the outgoing Chief Engineer. Eng. Franklin in the same spirit thanked his wife, daughters, and sons for standing with him especially in those days when work would be very stressful. He concluded by saying that God has blessed him with an electrical engineer among his children to carry on with his legacy.
"Dear Franklin, your contributions are nothing less than a mark of passion, perseverance, and dedication. We are very proud to have had such a loyal and committed chief engineer representing our organisation and we value your hard work, extensive knowledge, and invaluable experience. You are a very important pillar of our team and your abilities and contributions are of paramount importance for UEDCL's unswerving success," Mr. Tumuheirwe- UEDCL board Chairman stated as he handed over a long service award to Eng. Franklin.
The members of top and senior management with cheer to Eng. Franklin Oidu handed over gifts to appreciate his service to the entity and their career. Uganda Electricity Distribution Company Limited is an equal opportunity employer and rewards its employees irrespective of the positions therein. The farewell party for the chief engineers challenges the perseverance, dedication, and zeal of the young engineers and other staff of UEDCL.
Written by Jonan Kiiza- Corporate Affairs.